Character Name: Veverie
Class: Warlock
Talent Spec: Affliction with secondary Demonology spec
Your age: 29
Your weekly raid availability (We raid Fri/Sat 6-10pm server + Sun 4-8 `): At least 2 weekends a month. Currently switching jobs which would allow more raid days available.
What add-ons do you use (Check our Information for Raiders page to see our required mods)? DBM, Power Auras, XorcistForte, Tidy Plates, Skada, dxe, bigwigs, bartender
Do you have access to Vent? I am Sift, I don't speak on Vent. JK of course I do!
What sort of tools (calculators, builders, spreadsheets, etc.) do you use to plan your characters (if any)?
Other then Nall? I read and use the tools at the Elitist Jerks web site (after Nall explains them to me of course)
Provide the armory link to the character you are applying with:
http://us.battle.net/wow/en/character/velen/veverie/simple
Please include a screenshot of your UI: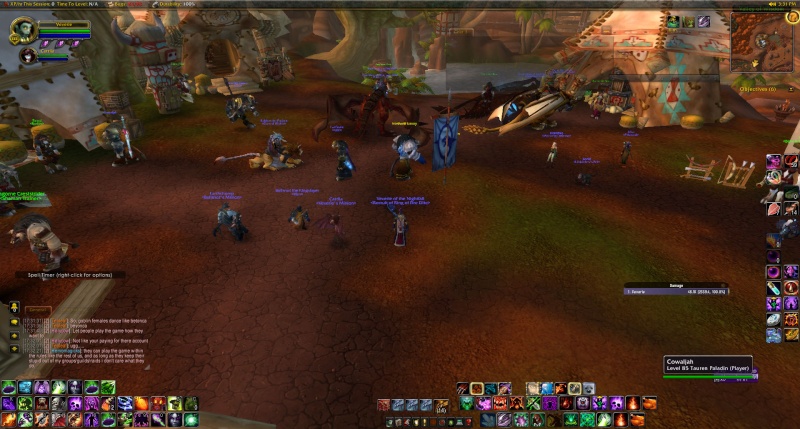 Tell us what stats you reforge your gear for and why: With Affliction, I reforged to hit until I reach 17%, then I reforge mastery/crit into haste where possible. At my current gear level Int >> Hit (to cap) > Haste > Mastery > Crit.
What previous raid experience do you have? I have cleared Ullduar with SoA. I have done 11/12 HICC10 and downed the Lich King with SoA. I have also done Ony 10 with SoA.
What guilds have you been a member of? Ring of Fire Elite, friendly guild that doesn't raid.
Why did you leave your previous and current guilds? They were CDBs. obviously jk The only reason I plan to leave RoF is to become a select aristocratic member of SoA.
Why do you want to join Shade of Arrows (Be thorough with your answer)? Because you guys are the shit! I mean number one on the server!! I have had the contingency to raid with SoA and thoroughly enjoyed the experience. I learned so much from those raids, and would love the opportunity to continue doing so. And you guys appreciate my dirty jokes
Tell us about yourself, to help us determine if you would be a good fit here (The more you put here, the better it looks): Well, I have an excellent mentor, The Great Nalladar. I have already learned a lot from you guys and would love to continue to learn more. I pick up things pretty quickly, so when you direct me I do well. I would also bring a fun lighthearted spirit to the raids, and feel that I have had the opportunity to show that with the raids I have been able to join in on. I feel that I get along well with members of SoA. Veverie also is a great utilitarian character, who would bring flasks, healthstones, soul stones, and portals to the raids. Also, I have Glyph of fear, which provides an excellent CC that we didn't have before.